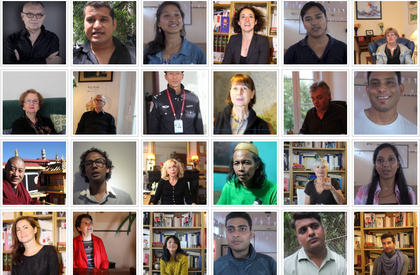 Nous sommes à un tournant. Un moment où notre société doit décider de son destin. D'un siècle à l'autre, d'un lieu à l'autre ce sont trois questions. Deux questions issues de la Forêt des âmes de Julien Friedler plus une. A chaque fois elles sont posées à des personnes croisées, à des personnalités, à des rêveurs, des poètes, des citoyens d'ici ou d'ailleurs. De Java à Paris en passant par Bombay, Lhassa, Perpignan ou Kathmandu. Chacun dessine un bout d'humanité. A vous de découvrir le "mur de l'humanité", cliquez et vous découvrirez une vision...
Et surtout si vous vous sentez prêts, contactez-nous ! 
We are at a crossroads. Our society has to decide his fate. From one century to another, from one place to another: three questions. Two questions from the "Forest of souls"  created by Julien Friedler plus one. Whenever they are asked to cross people, personalities, to dreamers, poets, people here or elsewhere. Java to Paris via Bombay, Lhasa Kathmandu Perpignan. Everyone draws a bit of humanity. So discover the "wall of humanity", click and you will discover a vision ...
And especially if you are ready, contact us!